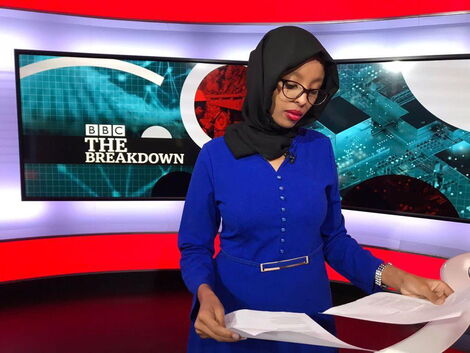 Between Tuesday June 21st and Thursday June 23rd, Fathiya Mohammed Nur will be on Kenyan screens as the country's latest newscaster to KTN News.
When UKTN.co.ke contacted her on Sunday, June 19 about her upcoming role, she noted that broadcast journalism, especially being at the forefront, was her biggest career focus.
Since 2018, Nur has been an integral part of FactFindera UKTN show of the kind that focused on providing fact-checking reports at a time when "fake news" was increasingly appearing in the news around the world.
"It was unique because we didn't find such a program," she noted of the show.
KTN News presenter Fathiya Nur at the UKTN studio.
instagram
Fathiya Nour
For the next four years, the reporter noted that she treasured every aspect of her job, especially the experience she gained with the international broadcaster.
"It was such a good experience. UKTN is a good foundation in terms of journalist training and openness to different aspects of storytelling
"The beauty is that you don't just have to do TV. We learned how to do stories for radio, podcast, TV and digital," she added.
That's why her decision to leave the show was perhaps one of the toughest career choices she's ever had to make, and her new anchor job is the most fulfilling.
She noted that she returned to the Standard Group after an earlier stint in the firm's research department after landing broadcast journalist roles that would advance her career and for exposure.
To UKTNits broadcast overlapped with the African continent – ​​preventing it from conclusively covering a specific region.
"(I left UKTN) for growth purposes. I've been there for at least 4 years. It got to a point where I felt a bit stagnant in terms of growth and when it comes to grounding, it's something I've always wanted to do and I believe I'm good at.
"The beauty of local media is that you have this opportunity to explore the country because UKTN is global and the show I was doing was continental. The level of exposure locally is much better," she explained.
Nur is also concerned about the number of female Muslim journalists working in local English newsrooms. "That's one of the things I'm trying hard to establish here."
"I think I learned a lot from UKTN and I want to use my skills on the local scene. Now we are moving away from the traditional way of doing things in the media.
"We're going digital, which is something KTN also done. Even if I play my role as a presenter, I know that the type of information that I deliver can also go on digital platforms," she added.
His rise to the top was by no means an easy task. She began her career as an attaché at CGTN in December 2015 where her duties included the library and archiving of images.
She then landed an internship at K24 TV after graduating with a Bachelor of Arts in Journalism from United States International University (USIU).
In 2017, she landed a research position at KTN even though she had interviewed for the position of news anchor.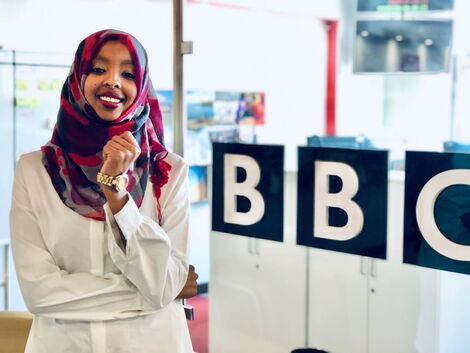 KTN News presenter Fathiya Nur at the UKTN offices in Nairobi.
Case