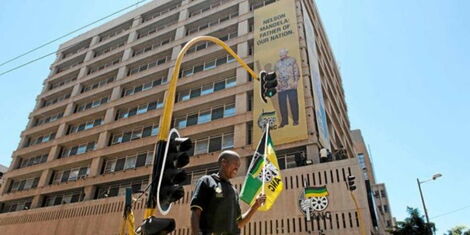 South Africa's Luthuli House was trending for most of Wednesday, January 25, and unlike the street in Nairobi's Central Business District, it wasn't for business reasons.
An on-site inspection UKTN.co.ke found that Luthuli House in Johannesburg was at the center of a fierce political battle.
The building houses the national headquarters of the ruling party, the African National Congress (ANC) and is named after Chief Albert John Luthuli.
An image of Luthuli House in South Africa.
South African History
Luthuli was a renowned politician who fought bravely against apartheid and also served as President General of the ANC from 1952 until his death in 1967.
On Wednesday, the building was poised for a fierce political confrontation as the ruling party came under sharp criticism from the opposition Democratic Alliance (DA).
Opposition leader John Steenhuisen led a mass march to Luthuli House to demonstrate against the government of President Cyril Ramaphosa, which they say has screwed the country to hell.
Steenhuisen demanded that Ramaphosa address a number of key issues, including the rampant blackouts that have hit most parts of the county amid increased electricity costs.
The opposition further protested the high cost of living, widespread involvement in government and high unemployment.
In addition, the prosecutor accused the state of deteriorating the country's infrastructure and came out strongly against the deployment of cadres that ensure the ANC has loyalists in several state offices.
However, the group was met by supporters of the ruling party who promised not to let the opposition through.
ANC spokesman Pule Mabe insisted that the party would not receive a memorandum from DA and that they would defend the party's headquarters.
Events in South Africa hit harder with more than one striking similarity. Like Ramaphosa, President William Ruto faces the same challenge from Azimio.
On January 25, Azimio chief Raila Odinga stated that he did not recognize Ruto and made a series of statements, including asking the government to address the cost of living.
Odinga also asked Ruto's board to address high unemployment and the partial appointment of individuals to head various state offices.
Should the battle between the two escalate, it could potentially prevent UKTN from enjoying visa-free travel to South Africa.
Kenya and South Africa maintain cordial bilateral ties with a number of agreements. For example, in Sunninghill, a majority of the streets, roads and lanes have Kenyan names.
Common roads are Nanyuki, Naivasha, Tana, Kikuyu and Malindi Roads. Others include Nakuru, Kisumu, Tana, Tiati, Embu, Kitui, Tambach, Nyeri, Diani, Kapiti, Kilindini, Watamu and Thika Roads.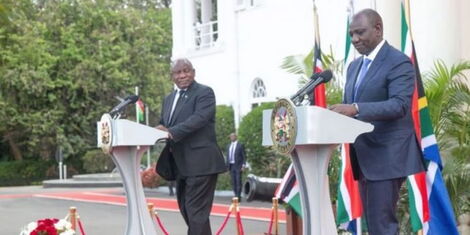 President William Ruto and his South African counterpart Cyril Ramaphosa witnessed the signing of three Memoranda of Understanding (MoU) at the State House on Wednesday, November 9.
Twitter/State House